Opening Hours:
Monday to Thursday 8am – 4:30pm
Friday 8am – 2pm
01793 612007
Transfer Bridge Industrial Estate, Country Road, Swindon, SN1 2EL
Directions:
Approach the Tescos at Ocotal way from Great Western Way, once you pass under the bridge to turn left, you will reach a small roundabout next to Go Outdoors. Take a left turn here and head up the ramp into the industrial estate. Follow the road along to the end and you will see Gas and Go. See map below: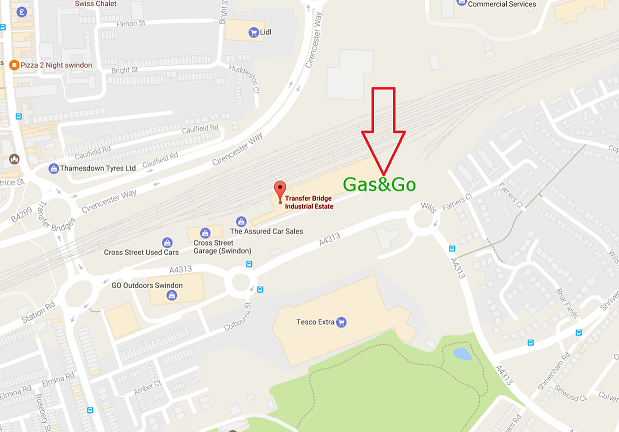 Disclaimer – The logos used for our suppliers and services on this site are their property – Gas & Go are authorised agents for these companies and/or members of the professional bodies and as such are promoting their services and brands. Should any copyrighted material appear on this site however, and you are the owner and not happy for us to use it, please contact us immediately and the webmaster will be happy to discuss.
Gas & Go Ltd, Transfer Bridge Industrial Estate, Country Road, Swindon, SN1 2EL Tel: 01793 612007